Disclaimer: We are Not Affiliated with Sub-Zero, in any way, at all!
If you were looking for Sub-Zero's web site... click here

RefrigeratorPartReplacements can supply you with All available Part Replacements
for SubZero Refrigerators/Freezers, and we sell retail/wholesale
>>click here for SubZero Repair Service in San Diego, CA<<
Add your Service Company to our National Independent SubZero Directory
Get your SubZero Parts below:
---

Evaporators
1-3 day shipping!


Heat Exchangers NOW Available!


Compressors
NOW Available!

---

After Ordering - Your Paypal Transaction Receipt is the ONLY Order Confirmation you will receive!
The ONLY other email you will receive is from Paypal, after it ships, with your Tracking info!
PLEASE BE PATIENT - Orders are shipped as quickly as humanly possible, 2-5 days, unless otherwise noted! Speak to a Tech LIVE - DIY Refrigerator Repair Assistance - click here

---
---
Also Available Now!
New Refrigeration System
Rebuild/Restoration Kits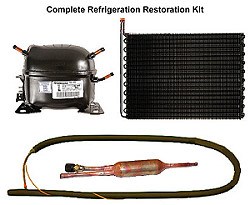 SubZero Authorized Service Companies will NOT install parts you buy yourself! They Demand you pay them
for the parts, that they sell you, so they can make more money from you!
It is highly suggested that you do NOT CALL a SubZero Authorized Service Company to install your parts!
Call an Independent Service Company that has been doing SubZero Appliance repairs for many years,
and was a Victim of SubZero Cancelling their Authorized Agreement, without any warning, and
refusing to sell them parts anymore, for no reason at all,
which ultimately hurt their very own consumers of SubZero products the most!
-click here to find an Independent Service Company-
---
NEW PARTS LOOKUP SERVICE AVAILABLE NOW!!!
Replacement Parts Lookup Service
for SubZero Refrigerators/Freezers
For Parts NOT found on our site!
click here for more details



Are you a Service Tech that has NEW OR USED parts you need to sell?


---
Beware of Imitations!
Our evaporators are Brand New exact replacement evaporators for SubZero Brand Refrigerators!
They are manufactured with a much higher grade of refrigeration metals,
to insure that they are the highest corrosive resistant,
so as to avoid the leakage issues we all are familiar with in the past, with the oem evaporators!
Typical Leaking Evaporator Testimonial:
cubster of Metairie, LA on Nov. 11, 2013
We have a Sub-Zero 610 refrigerator built in 2002. The evaporator coil has been replaced twice because of freon leaks. The first time, parts and labor were covered (within 5 years of purchase) and this was in response to a recall. The second time was diagnosed after the unit continued to lose freon. While parts were covered, there was a $400.00 service charge. We also had to pay $95.00 for a freon top off while the problem was being diagnosed. The technician tells me that Sub-Zero has a problem with their copper evaporator coils ... The first time the coil was replaced, a copper one was supplied by Sub-Zero, which also failed. Now we have another replacement, and only time will tell...
(Only One of many reasons we are manufacturing Much Higher Quality Replacement Evaporators for SubZero Refrigerators!)...
Consumer Affairs Customer Complaints about Leaking SUBZERO Evaporators!
---
In a very brutal and vicious move, SubZero pulled all their parts distribution, from ALL Parts Distributors, Nationwide, and started a campaign against independent service companies, to attempt to stop them from being able to service SubZero appliances, even ones that are Out of Warranty! Doing so, has caused service companies to make do with what other brands have available, that will cross over to the parts that are in SubZero appliances. Most of the time, this works out ok, but there are a few parts that require the part to be to exact specs of the original part, to be able to work with the SubZero appliances, so now you have a source for those Quality manufacturered replacement parts, that are made to the SubZero specs of the Original Replacement Parts(OEM).
Never in 30 years have I seen a manufacturer turn their back on their customer base, and stop providing parts, to service their appliances, until now, with SubZero doing this, because it is against the law...it is called Restraints of Trade.
Due to this extremely unfortunate and very arrogant move by SubZero, we have started manufacturing some of the sealed system, exact spec parts, as well have sourced additional parts through other manufacturers of exact replacement parts, for SubZero appliances, so the Customer can Once again, be put first, which SubZero so brutally forgot about.
Order Your SubZero Part Replacements, Now!
If you have any questions, please let us know.
Contact Email Address: Rtnoww@aol.com
Sorry, but we are so busy filling orders,
we don't have time to answer the phone.
If you have questions, please email us.
---
---
RefrigeratorPartReplacements.com © 2013 All Rights Reserved
Sub-Zero Parts Sub-Zero Parts, sub-zero parts subzero parts, subzero refrigerator parts sub-zero refrigerator parts
Sub-Zero Parts Sub-Zero Parts, sub-zero parts subzero parts, subzero refrigerator parts sub-zero refrigerator parts
Sub-Zero Parts Sub-Zero Parts, sub-zero parts subzero parts, subzero refrigerator parts sub-zero refrigerator parts
Sub-Zero Parts Sub-Zero Parts, sub-zero parts subzero parts, subzero refrigerator parts sub-zero refrigerator parts
Sub-Zero Parts Sub-Zero Parts, sub-zero parts subzero parts, subzero refrigerator parts sub-zero refrigerator parts
Sub-Zero Parts Sub-Zero Parts, sub-zero parts subzero parts, subzero refrigerator parts sub-zero refrigerator parts
Sub-Zero Parts Sub-Zero Parts, sub-zero parts subzero parts, subzero refrigerator parts sub-zero refrigerator parts